It is believed 33,000 female children get married to older people daily against their will and some believe there are as many as 15 million girls, some as young as eight, who have been forced to marry older men sometimes in their sixties and seventies. To raise awareness about the issue at hand, a social experiment has been performed in the heart of the New York City, the most populous city in a country where, contrary to what one might expect, federal states in which girls can get married at the age of 12 still exist.
The experiment was devised by Coby Persin, a prankster, social experimenter and a Youtube star with over 3,1 million followers whose work has been featured on Right This Minute, MTV's Guy Code and in the Huffington Post. The 21-year-old New Yorker poses as a wedding photographer as a senior citizen takes his 12-year-old bride for a photo shoot through the busy Times Square.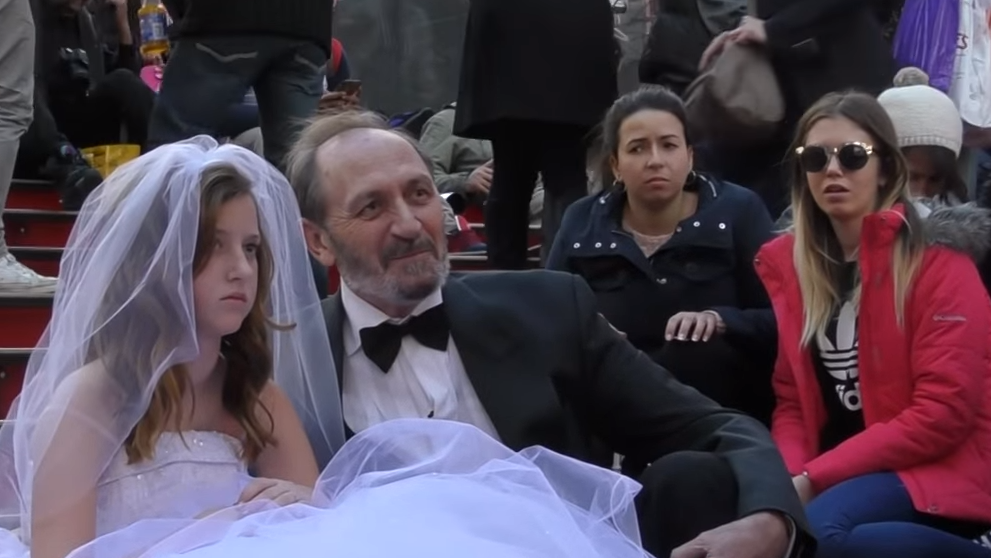 "I have permission from her parents," the suited-up groom continuously repeats in a foreign accent, while clinging to the girl, at least four decades younger than him, who is wearing a bridal dress and heavy makeup.
The social experiment raised outcry by numerous passers by, some of which attempted to separate the couple and bring the young girl to safety while threatening to phone the police, perhaps unaware that a short one hour-forty minute drive away in Massachusetts, the police would have no ground to intervene as a 12-year-old girl can lawfully get married with the consent of her parents in the Bay State.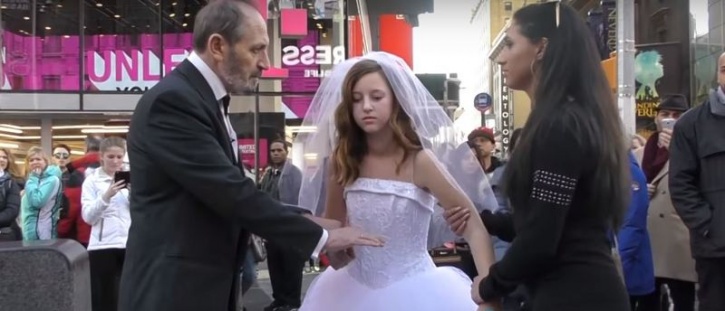 Child marriage is currently legal in 91 countries around the world. According to the International Center for Research on Women, one in nine girls in the developing world is married before the age of 15 and if nothing changes, it is estimated that 150 million girls will be married prior to turning 18 in the next decade.